Annual Business
After incorporating a business, you will need to keep a record of the annual business that takes place.

_________________________________________________________________________________________________
1. Launch SpeedMatters with HotDocs® 11 Player and make sure that the SpeedMatters library is on the left-hand side.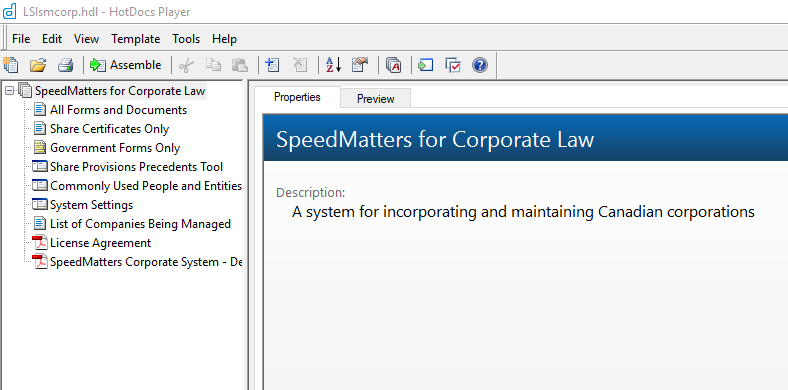 2. From the main page screen, select 'All Forms and Documents' by double clicking the tab. You will be prompted to create or select a 'New Answer File.'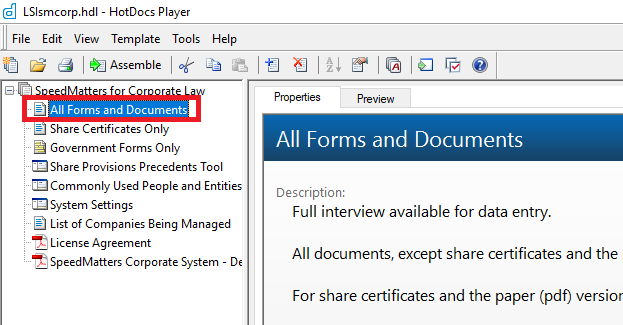 3. Open the answer file (.anx) that you wish to update.
Note: This file should already have been created when the company was incorporated.
Click 'OK' to continue.


4. To expand all of the necessary tabs, click 'Yes' under 'Show All Menu Items.'
5. To record the annual business information, you will need to select the following options to continue:
'What would you like to do today?' -> 'Produce document(s)'
'Document Category' -> 'Packages and Most Popular Documents'
'Common Packages' -> 'Annuals'



6. Continue to 'Annual Business' on the left side of the screen and click on 'Audit Exemption for First Fiscal Year.' Make sure the status is marked as 'Completed.'

Note: The status will have been set as 'completed' during the Incorporation process.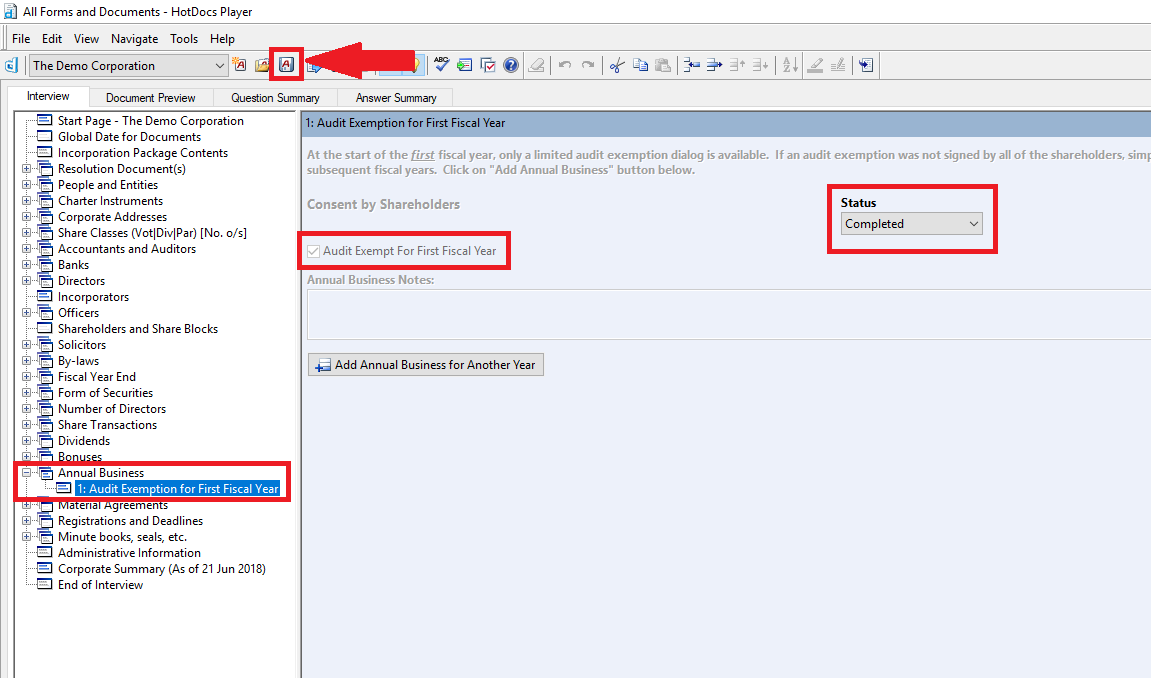 Remember to save your work using the 'save answer' icon (red arrow).
7. To continue, click on "Add Annual Business for Another Year" at the bottom of the screen.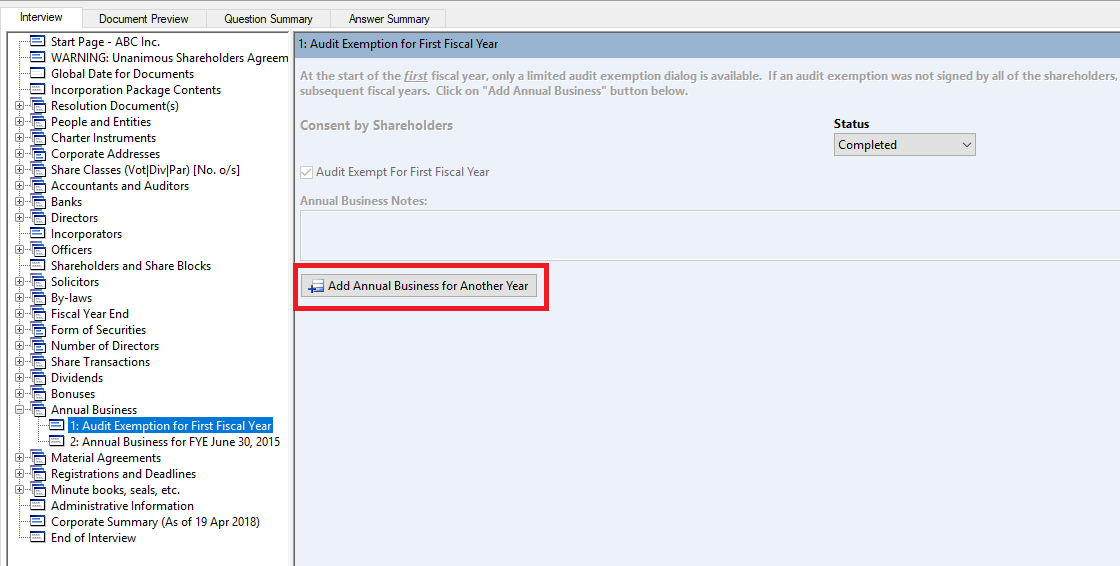 8. At the top of the page, add the 'Fiscal Year' for the annual business you wish to document. If available, you can also add 'Date Annuals Letter Received.'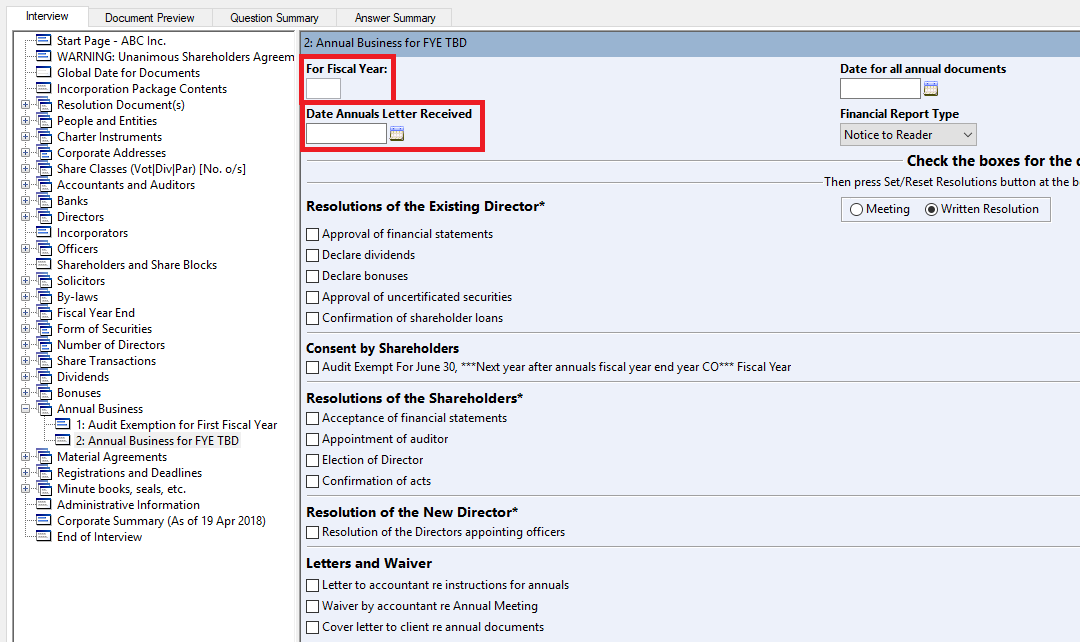 9. If applicable, add the 'Date for all annual documents' at the top of the screen.
Note: This is typically filled out if 'Meeting' has been selected and will contain the date of the meeting.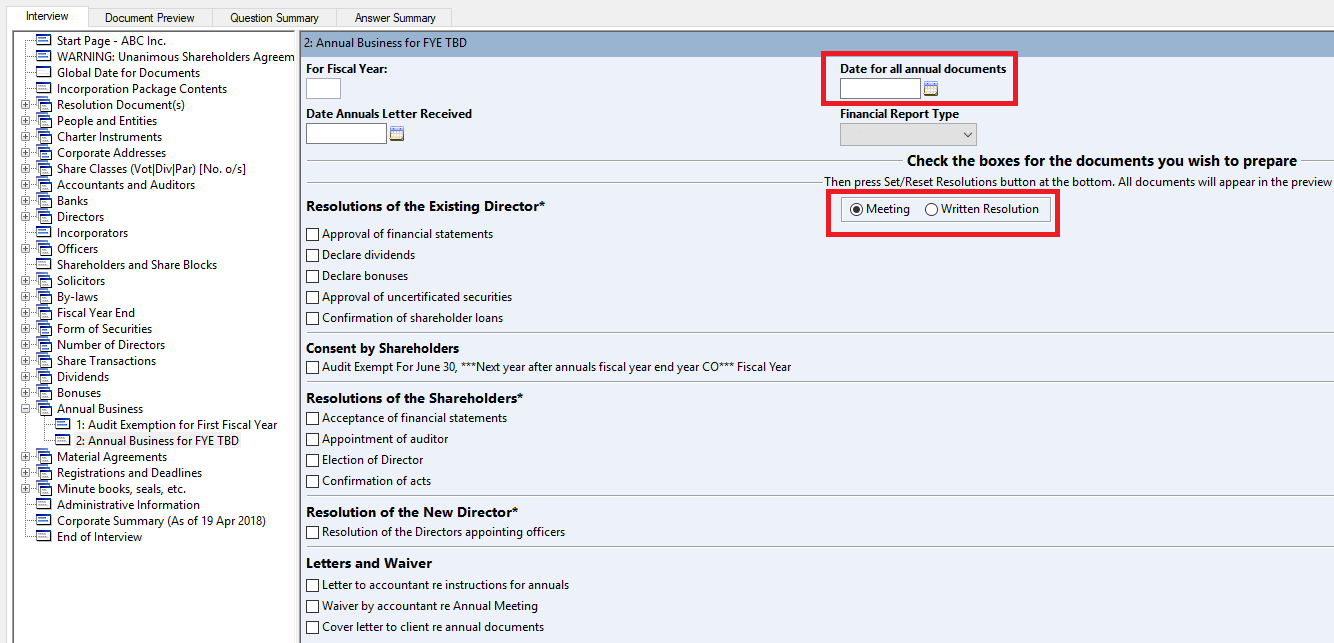 10. To document the type of financial report, select one of the choices from the 'Financial Report Type' drop down menu. To the right, you can also record the 'Date of financial report.'
Note: Typically, the accountant will provide the date of the report.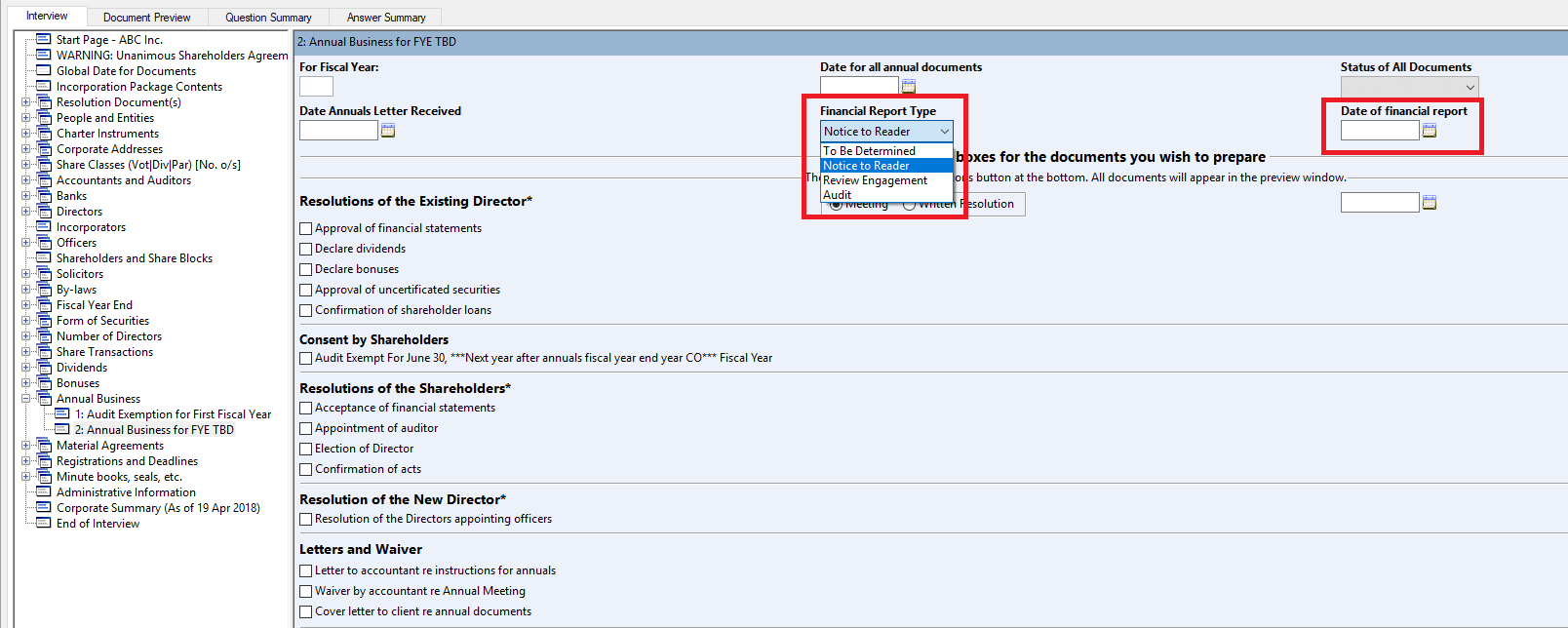 11. Select all applicable boxes on the left to generate the documents you wish to prepare for this set of annuals. For the 'Resolutions,' be sure to select either 'Meeting' or 'Written Resolution.'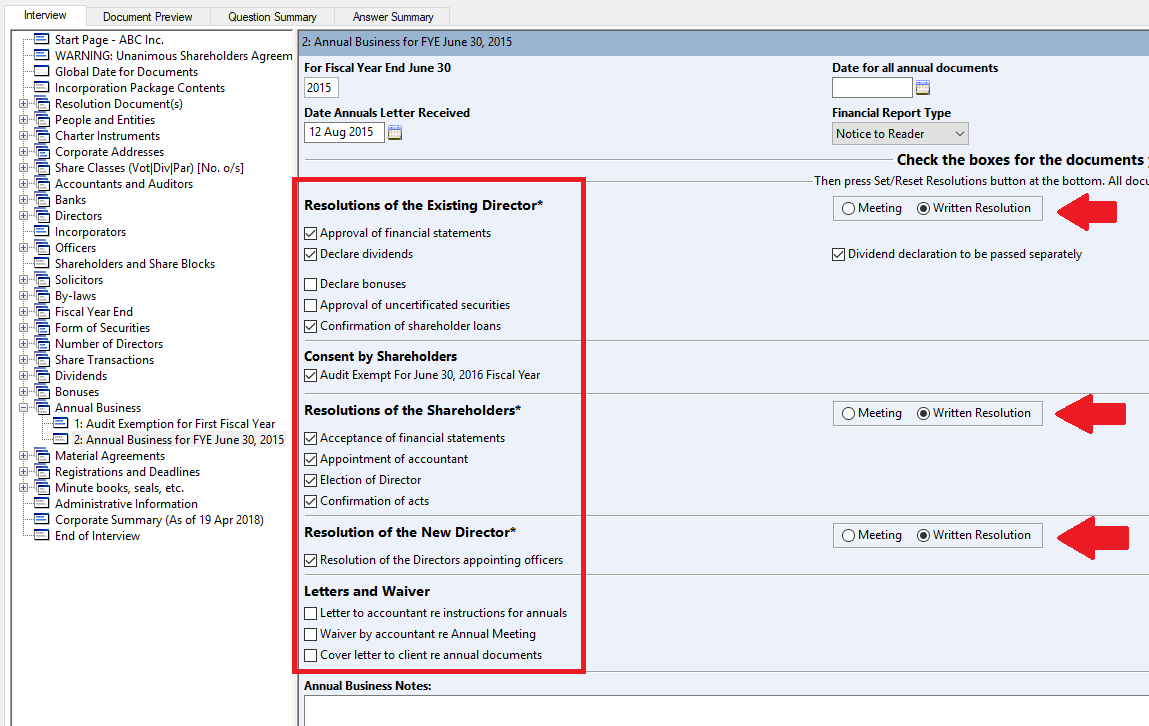 12. Ensure the 'Status' on the top right corner of the page is selected as 'To Be Documented.'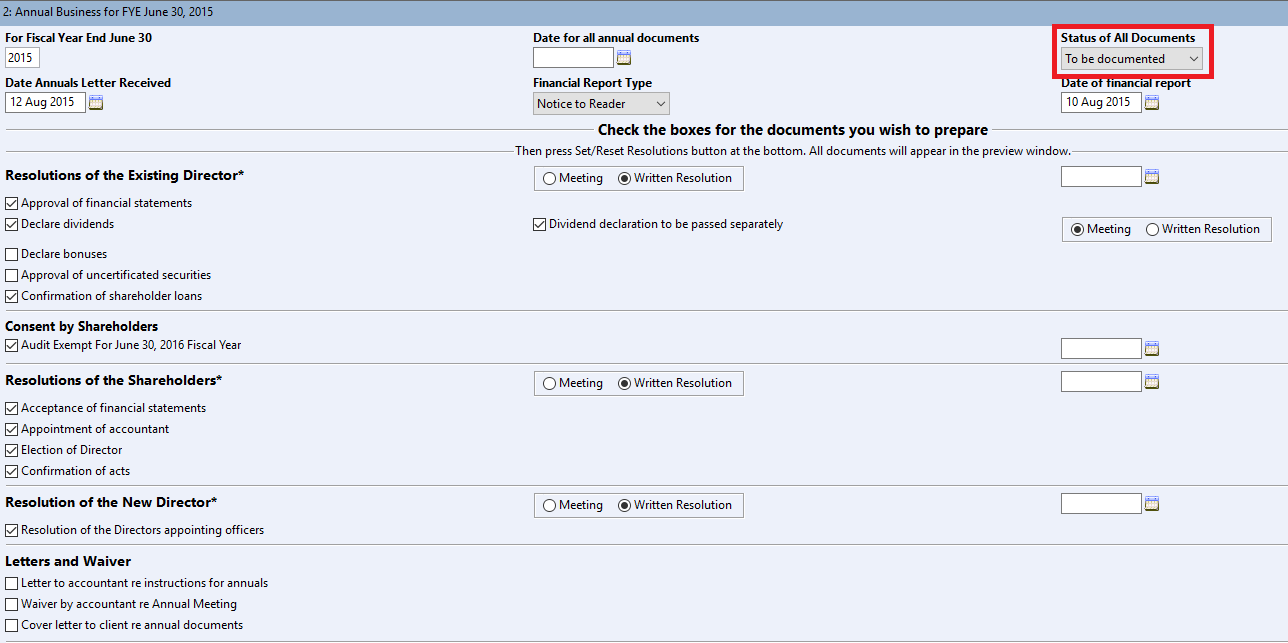 13. Click 'Update Resolutions for this set of annuals only' at the bottom of the page. Use the 'Document Preview' tab at the top of the screen to view a preview of your prepared documents and ensure the document is error-free before sending it to a word processor.
Note: This preview will show any errors in red font.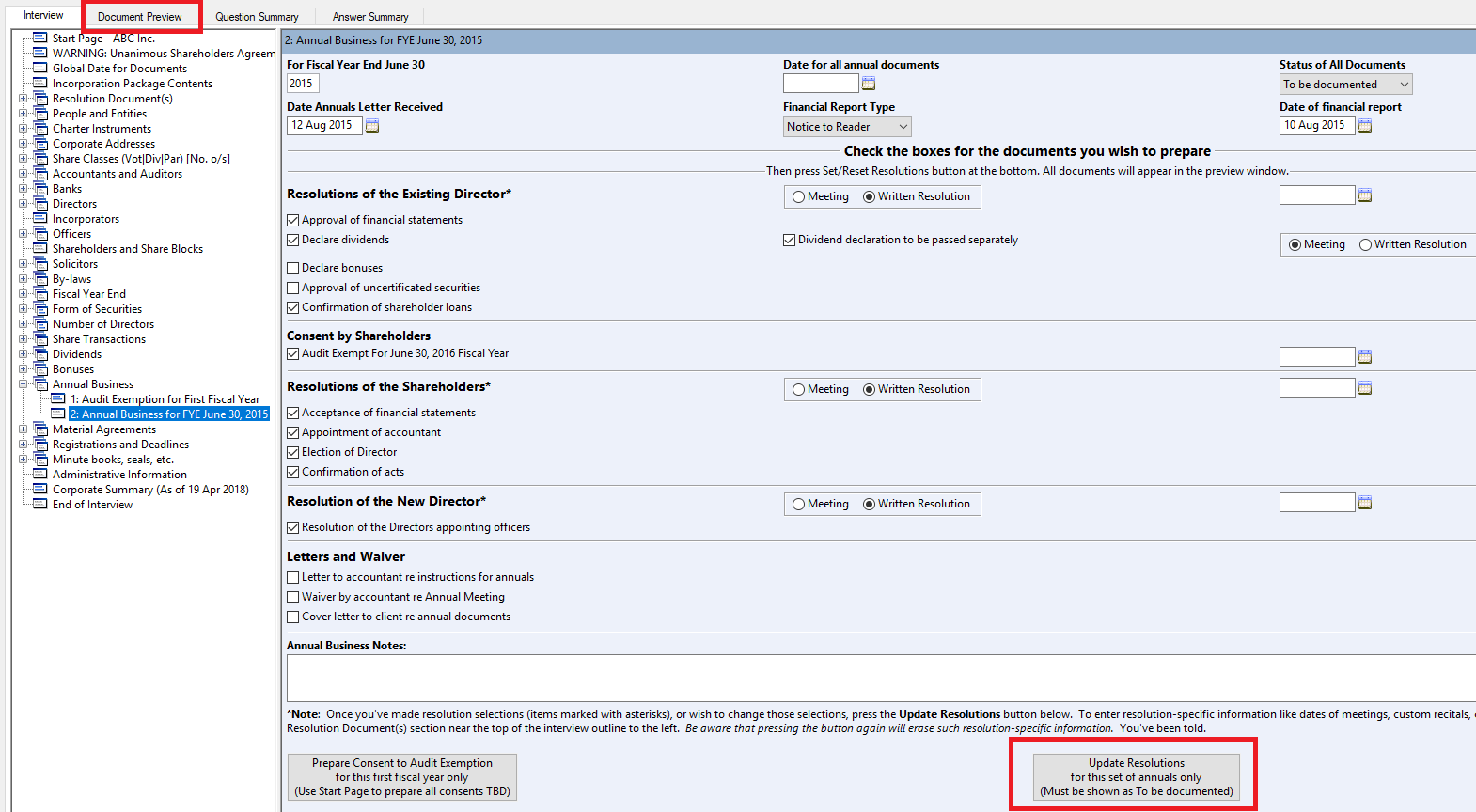 14. To load your document in Microsoft Word, click the 'Send document to word processor' button at the top of the screen.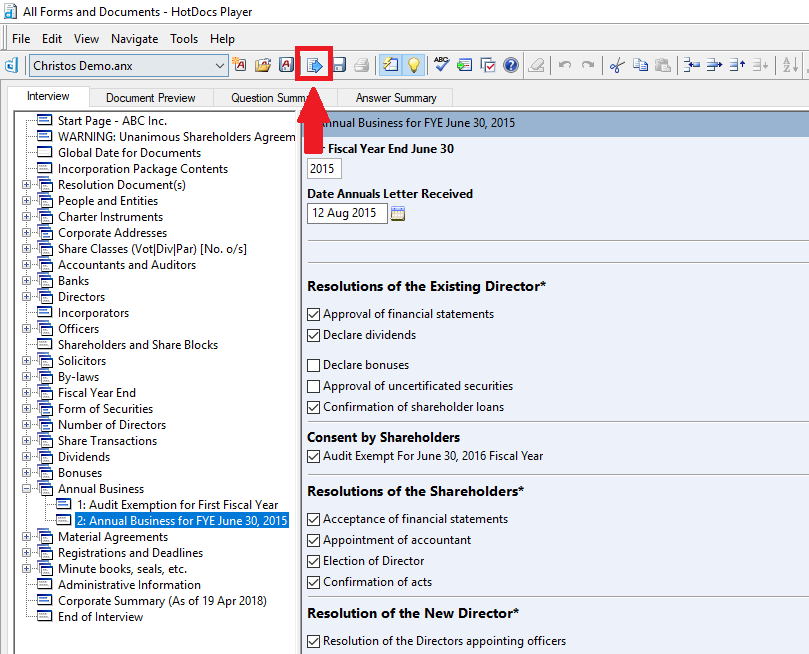 15. After these documents are generated, change the 'Status' from 'To be documented' to 'Awaiting Execution' in the dropdown menu.




Note: Once you have received the signed documents from the client, you can change the status to 'Completed' for your own records.
---
---